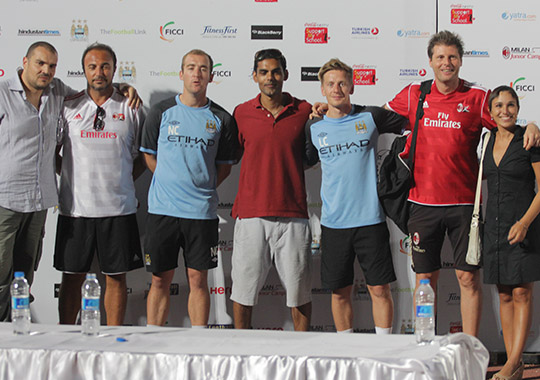 TFL INTERNATIONAL FOOTBALL FESTIVAL 2012
The second edition of TheFootballLink International Football Festival 2012 was the largest Football Festival ever organized in India and saw the participation of over 5000 football players. The festival was organized in partnership with AC Milan Junior Camp, Italy and Manchester City Football Club, England.
The festival spanned across a period of 5 weeks in total which included, along with the players, over 120 football and fitness coaches and numerous Corporates and Organizations.
Multiple tournaments featuring more than 400 teams were conducted, including an 80-team School Championship, a 64-team Corporate Championship, a 256-team F-Cube College/Club Championship, an 8-team NGO Tournament, and a 16-team Girls Tournament.
Numerous Coaching and Scouting camps and various social initiatives revolving around underprivileged children were also conducted. Skill evaluation programs for the players were also included as part of the festival.
The festival and talent scouting initiatives acted as a communication platform to spread a positive message and at the same time, gives everyone an opportunity across the country to benefit from football.
The official partners also included the Delhi Soccer Association (DSA), Federation of Indian Chambers of Commerce and Industry (FICCI), the Hindustan Times, Turkish Airlines, Rishi Narain Sports Marketing, Blackberry, Coca Cola, Hero, Sara Towels, Special Olympics Bharat, Literacy India, Prive Networks, Thyagaraj Stadium management & staff, Delhi Development Authority Sports and numerous other supporters and contributors.