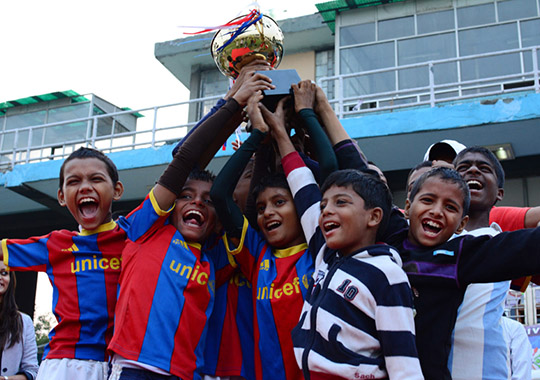 MOHALLA FOOTBALL FESTIVAL – 2013
We organized Delhi's First football festival dedicated to NGOs and under privilegded children – Mohalla Football Festival in association with Delhi Police, Wockhardt Foundation and save the Children. The week long celebration saw the participation of boys and girls in coaching programs, scouting camps, Football tournaments, medical checkups and nutrition camps.
TheFootballLink Trust and the Delhi Police jointly organized the Mohalla Football Festival 2013 from the 29th to the 31st of October at the Ambedkar Stadium and Delhi Armed Police grounds, Vikaspuri. Football teams from Delhi Police CYDP centers, surrounding slums and partner NGOs participated in various free football tournaments, multiple coaching sessions and nutrition & medical camps in the three day long celebration of the beautiful game. This one of its kind football festival for 500+ underprivileged children was supported by One World Futbol, Coaches Across Continents, Slum Soccer India, Special Olympics Bharat, FICCI, Delhi Soccer Association, Football Players Association of India, Wockhardt Foundation, Magic Bus, Save the Children and other organizations.
The Festival
500+ Underprivileged children
16 teams from CYDP Community Football Centers
16 teams from various NGOs across Delhi
Coaches across Continents Coaching Camp
32 Team Football tournament
Nutrition & Medical Camp
Coaches & Mentors Workshop
Scouting Program
Ambedkar Stadium | Police Grounds, Vikaspuri
'Festival for underprivileged children and youth in association with the Delhi Police'
Highlights
International Coaches | 500+ Underprivileged Children | 16 Community and 16 NGO Teams | Football Coaching and Scouting Camp | Football Tournament | Nutrition and Medical Camp | Coaches and Mentor Workshop | Coaches Across Continents